Holi the festival of colours is being celebrated today across the country and apna lalu jee is has not let us down and his holi celebration continues to be special as ever.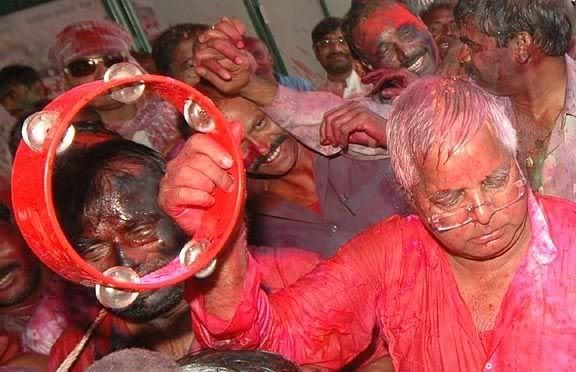 Lalu lived up to tradition,
playing his trademark 'kapdaphar'
(cloth-tearing) Holi with supporters to the singing of traditional Bhojpuri songs and drum beats at his residence here Saturday. Although initially reluctant, the Rashtriya Janata Dal (RJD) chief was ultimately forced by his supporters and party workers to play kapdaphar Holi.
He was not ready to play the boisterous style of Holi, and had decided to keep the celebrations to only splashing of colours and singing songs.
But some enthusiastic supporters and party workers tore Lalu Prasad's clothes and forced him play his trademark Holi.
"First, we tore his clothes and after that he tore the clothes of some of us, leading to the kapdaphar Holi," said Mithlesh Kumar, a Lalu Prasad supporter.
Wishing all the readers of Cool Bihari a very Happy and colourful Holi.Play Safe.
Pictures Courtesy :
Manish Sinha