Patna is hosting the third
Scientific foresight
event starting from today till 24th Dec .The event has been a great success over the years and this year the event has scaled new heights with the global scale all round effort put by the students ,organizers and the Science & technology Dept of Bihar govt.
This Symposium is aimed to provide an opportunity to explore the hidden aptitude of the budding engineers and scientists.
Participating students will be able to develop their interests and awareness about the contemporary industrial and research trends in areas of science and technology. They will be able to update their technical knowledge and also enhance their communication and presentation skills.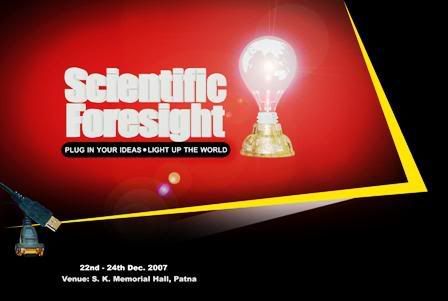 The three day affair will have 10 seminar sessions and display of industrial products, models and innovative posters The event will witness paper presentations and panel discussions on various subjects .Experts and guest speakers are likely to address the students and share their ideas and thoughts with the budding talents .
Thanks to the efforts of Science and technology Principal secretary Ajay thakur and the convernor Ramraj and his team the event has been pathbreaking in reviving the scientific temper in the state.This event will surely go a long way in restoring the prestine glory of Science and technology in Bihar and set new benchmarks.