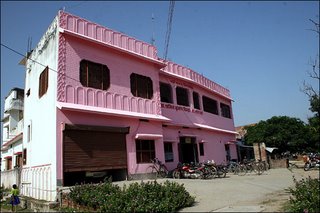 In a well thought out strategy by the think tank of the Aurangabad city, the authorities are on a spree to paint the city in Pink. Nothing can beat this unique effort to wash away the past and have a new fresh pink beginning.
BBC reports that the authorities feel pink is the way to go for Aurangabad residents to feel proud of their town again. Travel into the city today and you find the facades of most of the private and government painted a gaudy pink. "About 80% of the buildings have been painted pink in the town and the rest would be completed by next week," the town's sub-division officer Arvind Kumar Singh said.
'Pink fosters harmony'

Mr Singh says he thought of painting Aurangabad pink after a visit to Jaipur. "What better colour than pink which symbolises good mood, soothing sight and good feelings. Pink also fosters communal amity and harmony," he says. Accordingly, the government buildings were all painted pink, and now private dwellings seem to be following suit without much resistance. Four of the six hotels in the town already sport the colour.