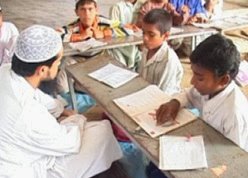 So finally our Journalist friend
Prabhakar
from Patna has come up with something worth appreciating .He talks about the unque Islamic school in Patna which has 40 Hindu students and they are at ease with both the Koran Sharif and Sanskrit hymns.
This unique Madrassa in Patna teaches Hindu students about the Koran and Muslim students about Sanskrit texts. The national song, Vande Mataram is recited at this madrassa everyday irrespective of the directives of any ministers. And the teachers of the madrassa are proud of it.

Crossing over the religious barriers and bridging the divide between temples and mosques, the message children in Patna are giving, if followed by their elders could well help end the communal divide.